Literacy
Knowledge, Meaning, Understanding
At Melton West Primary School, we strive to develop confident, literate and informed learners, who are able to actively communicate with others and engage purposefully with the world around them. Our English Curriculum is based on the Victorian Curriculum English domain. It is organised around the content strands of Reading, Writing and Speaking and Listening.
Reading is essential to the learning and development of our students. The ability to read, understand, interpret, analyse and enjoy texts, supports students in all areas of the curriculum. Our English program encompasses a daily one-hour reading lesson that focuses on developing a range of key skills and strategies, centred around the Big 6 in Reading – Oral Language, Phonological Awareness, Letter/Sound Relationships (phonics), Vocabulary, Fluency and Comprehension. Students are supported to read daily and work on individual learning goals, through dedicated independent reading time, as well as conferencing and small groups with their teacher. In P-2, this includes the incorporation of paired and small group learning centres. Each of our classrooms contain a well-stocked classroom library with a range of engaging texts, as well as access to iPads with a range of online applications and websites.
Writing is a process of communication and is an essential skill in order to communicate with the world around us. Our writing program encompasses a daily one-hour writing lesson that focuses on equipping our students with transferrable skills, while gaining confidence and independence in writing in variety of different forms and for a range of purposes and audiences. Our writing curriculum focuses on supporting students to develop and express their ideas, follow a process for writing and develop the basic conventions of writing, including grammar and spelling.
Opportunities to develop students speaking and listening skills are intertwined throughout all areas of the curriculum. Students are supported to develop the skills and language to interact with others, respond to and examine literature and express and develop their ideas in a range of contexts.
Many of our students are from a language background other than English, with English as the secondary language spoken at home. Our English curriculum incorporates the VCAA English as an Additional Language (EAL) curriculum in order to support their language needs and to develop their language proficiency.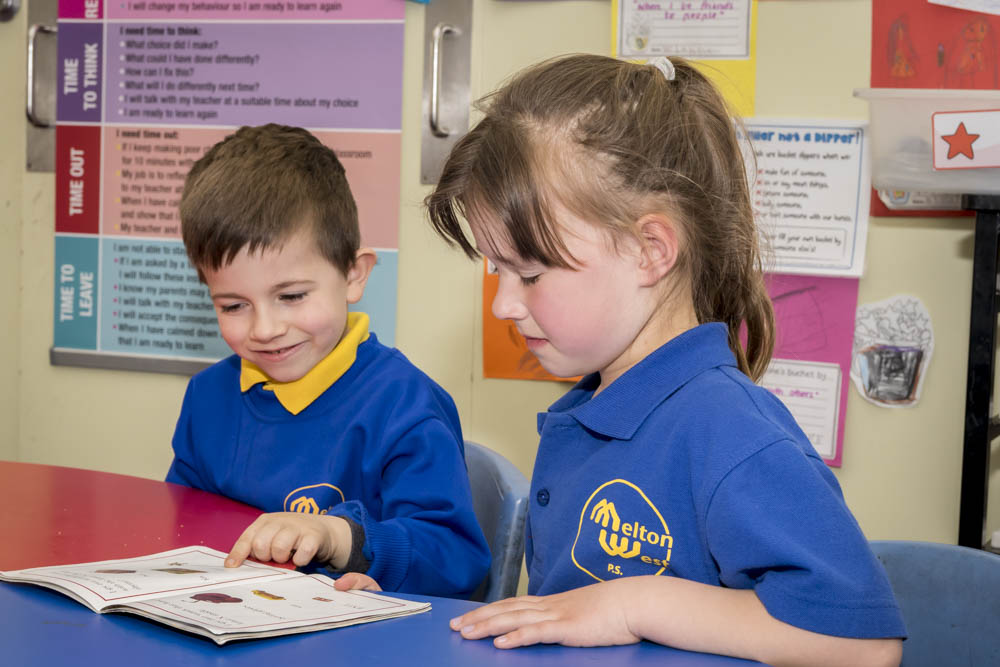 Mathematics
Understanding, Fluency, Problem Solving, Reasoning
At Melton West Primary School, our Mathematics curriculum is based on the Victorian Curriculum Mathematics domain. It is organised around the interaction of three content strands and four proficiency strands. The content strands, which describe what is to be taught and learnt, are Number and Algebra, Measurement and Geometry, and Statistics and Probability. The proficiency strands, which describe how content is explored or developed are Understanding, Fluency, Problem Solving, and Reasoning.
Numeracy is the knowledge, skills, behaviours and dispositions that students need in order to use mathematics in a wide range of real-life situations. Melton West Primary School believes that students need the opportunity to be actively involved in the learning of mathematics through the use of oral language, concrete materials and recording ideas in ways that make sense to them. Students' mathematical skills and understandings are developed so that they can confidently and competently participate in everyday life.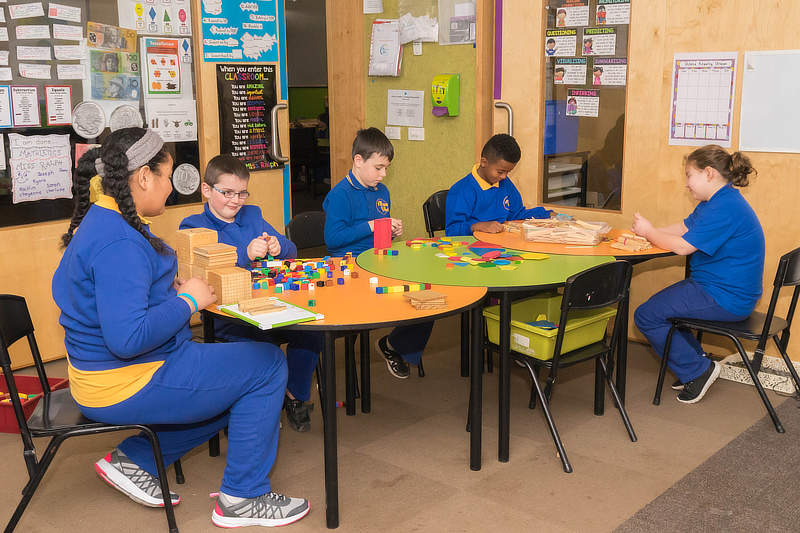 Digital Pedagogies
Analysing, Developing, Sharing
At Melton West Primary School, we provide a safe and supportive learning environment for all students to achieve their highest potential as responsible and active digital citizens. We do this through providing authentic learning experiences where students connect and collaborate with local and global communities as they explore their passions, with high expectations of students as individual learners and thinkers.
'Digital pedagogies' refers to the use of technologies to engage students with the curriculum and to promote learning. It is a new way of working and learning with information and communication technology (ICT). It moves the focus from simply using ICT tools for information retrieval and skills to a way of working in a digital world. Our teachers receive specialist coaching around the effective use of technologies from the school's Leading Teacher of Digital Pedagogies.
In Grades 3-6, Melton West Primary School provides a 1-1 iPad Program to support and enhance student learning. The iPads are provided and paid for by the school for use at school, with no additional cost to families. Each class in Grades P-2 is also provided with a bank of iPads, with enough available for use in small groups.
Other digital technologies and technology-related programs that we provide at Melton West Primary School to enhance student learning include:
Virtual Reality (VR) headsets
Bee-Bot® educational robots
Sphero SPKR+ educational robots
Chromebooks
Digital cameras
Mathletics
Epic!
Teach Your Monster to Read
eSmart Leaders
Minecraft Club.
Physical Education
Moving, Interacting, Growing
At Melton West Primary School, we endeavour to provide our students with a love and passion for Physical Education and being healthy. We hope that this passion will continue to grow with them into their childhood, embedding a strong foundation for exercise and health into adulthood. We want to encourage curiosity with the life impacting choices they make.
Our Physical Education program aims to develop well-rounded individuals, able to succeed in all physical pursuits. We begin the year by teaching fine and gross motor skills, such as skipping, kicking footballs, using tennis racquets and playing team games, as well as encouraging team work and a 'camaraderie rather than competition' mentality. Later in the year we provide more individualised activities such as Swimming Lessons and Athletics, as well as team sports such as AFL.
We are lucky to be able to provide a variety of clinics, allowing children to experience these sports first hand from professionals.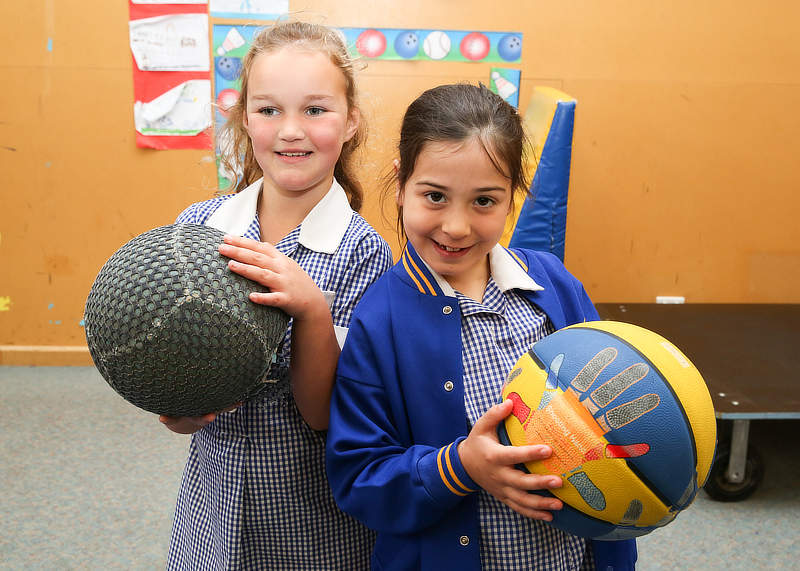 Art
Inspiring, Imagining, Creating
The visual arts program at Melton West Primary School is designed to carefully develop students' creative skills, critical appreciation and knowledge of artistic techniques. Students build their capabilities through processes of visual inquiry, practice, exhibition and reflections of their own and that of others' art works. The visual arts program at our school aims to develop students' sense of personal and cultural identity.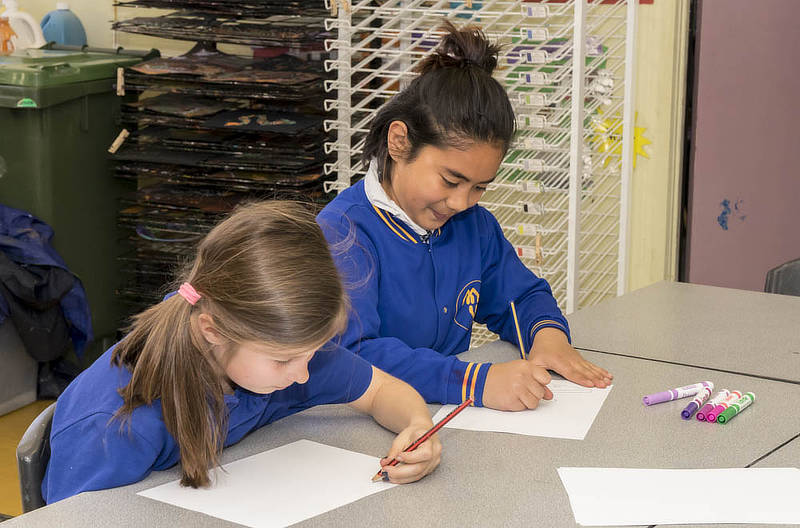 Science
Exploring, Investigating, Hypothesising
We want our students to develop a fascination and love of Science that continues to grow throughout their lives. We encourage curiosity, critical thinking and questioning so that students are able to make their own decisions about the world around them.
Our Science program is broken up into four units, one per term focusing on the following components of Science: Biology, Chemistry, the Physical Sciences and Earth and Space Science. Each year level builds upon the previous year's knowledge in these areas of Science.
Our Science experiences support and link with student learning in our classrooms, reinforcing our school wide aims to improve student's reading, writing and numeracy skills as well as developing the 21st century skills that they will need to be successful in the future. This is supported by our focus on STEM (Science, Technology, Engineering, Mathematics), which is currently being implemented throughout the school with support from trained Mathematics and Science Specialists.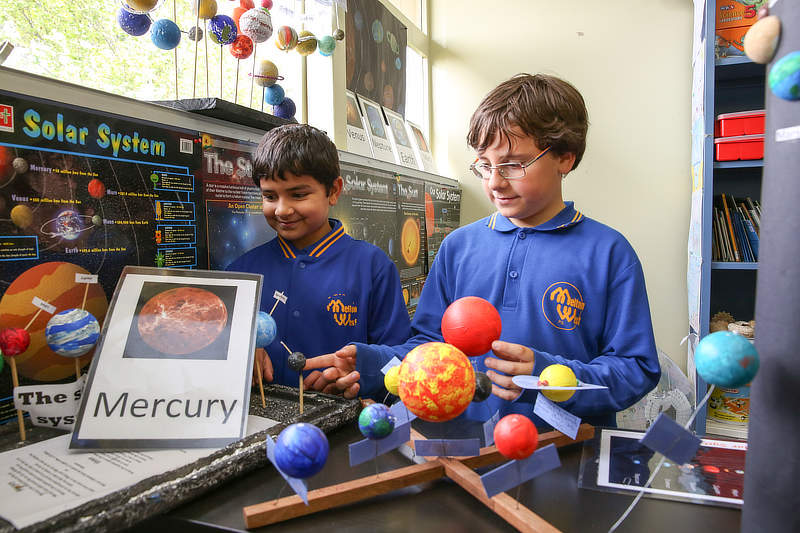 LOTE
Communicating, Understanding, Empathising
At Melton West Primary School, we are lucky to provide students with the opportunity to learn Mandarin through the My Chinese Teacher Program. Using video conferencing technology, students participate in a weekly 25 minute (15 minutes for our Prep students) interactive Mandarin lessons with a teacher based in China. The lessons focus on Chinese language and culture, engaging students learning through a variety of games and activities.
Inspiring students to become global citizens, students further their learning with a follow up 30 minute culture and language review lesson conducted in the classroom by our classroom teachers through workbooks, flash cards, pronunciation and lesson recap videos.
As cultural awareness can be best learned through exposure to a second language, our students are able to gain valuable information and insights by a teacher who grew up and lives in China. With opportunities to interact with their Chinese teacher by asking questions, sharing photos and engaging in other blended learning activities.  Our teachers learn alongside students, creating an inclusive community learning environment.